Troubleshoot your Wi-Fi and Internet connection
Troubleshoot my Wi-Fi and Internet Connection Pt.1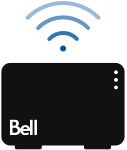 Having trouble with your Internet? Learn ways to fix it.
Follow a few easy steps to check your Internet connection.
Reboot with MyBell
Select Reboot my modem, below. This will open a new browser window. Log in to MyBell if you haven't already.
When you're done rebooting, close that window and return to this page.
Reboot my modem
Reboot manually
Unplug your modem, wait 10 seconds, then plug it back in.
For the Home Hub 3000, press and hold the reset button on the side for five seconds.
Important
Wait until the lights on your modem have come back on and stopped flashing before continuing.
If the lights are still flashing after 10 minutes, please call our technical support team at 1 844 310-SURF (7873).
Did this resolve your connection issue?
Finished troubleshooting
Thank you for following our Wi-Fi troubleshooting.
Was this troubleshooting helpful?
Run a speed test
If you're experiencing slow speeds, a speed test will show you whether the problem is the Internet connection to your modem, or the Wi-Fi network in your home. To better understand Internet speeds, Watch this video:
What to do after running the speed test:
Follow the instructions on the speed test results page for next steps.
GOOD TO KNOW
If you have concerns with a specific device, run a speed test on that device.
A computer/laptop or smartphone are the best types of device for troubleshooting your Wi-Fi.
Did you already run a speed test? Review tips for optimizing Wi-Fi speeds to your device.
We received your response